The room was empty. Pale sunlight filtered through the half curtained window. Dust floated in the weak beam bleeding through the glass. It was eerily quiet. I stood silently, taking in my surroundings. A slight movement caught my eye. The curtain moved ever so perceptibly. I cautiously moved toward the window, my breath shallow. My heart rate increased a little and my eye twitched. The curtain moved again, and I reached for it, hand shaking. And suddenly… nothing happened.
Is this a form of clickbait? Did I choose this title to this week's post just to get you to click on it? Maybe… Or I just wanted a clever way to lead you into the less-than-chaotic week I've had. It's weird, but if it's not at least a little cray-cray around here, I feel a bit lost. But seriously, nothing much happened this week. That means another rambling diatribe.
Mind you, as you're reading this with your morning coffee, or tea, or Bloody Mary (hey, who am I to judge?), I'm on the "What the F*ck" o' clock ferry to Vancouver, taking my daughter Beth-Rose to the airport. Today's the day she flies to Frankfurt to meet up with Jana and her family for a fun-filled, two week German holiday. Yay!
Meanwhile, life goes on in the Frazzledad household. All the normal goings-on, like waking at 3 in the morning to pee, then staying awake until about 45 minutes before the alarm goes off, wondering what to make for dinner.
A Course For Everything
I'm a bit addicted to doing online courses. I am a charter member of Udemy. If you want to learn a new skill, or develop some knowledge around a particular subject, I recommend you sign up for a free account. Why bring this up? I'm thinking maybe I should look for a course on their platform for learning how to go back to sleep after getting up in the night to pee. I bet I could find that. And if not, if one of you could maybe design and build that course, I'll be your first student!
So anyway…(John Cleese reference, title of his book…), this past week I gave Zach my credit card so he could head down to Victoria and get himself some nice clothes. Graduation is less that 3 weeks away, and despite what my big-brained son thinks, you shouldn't wear a hoodie and sweats to your high school graduation. It's just not cool. Certainly not as cool as wearing a long-sleeved tee shirt imprinted with a tuxedo graphic…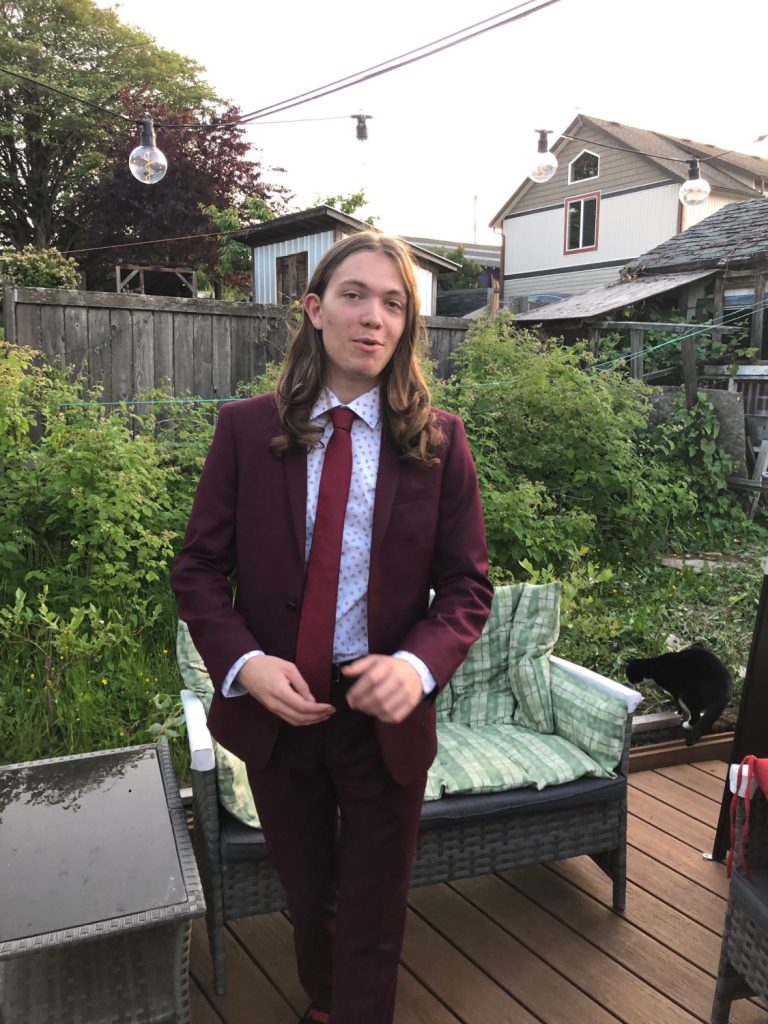 So he went and found himself a really nice suit. I like the colour. He surprised me (yet again!) with his choice. I thank God for marrying someone with the genes to pass on good sense to our kids. After all, I could be the dad teaching my kids to wear Hawaiian shirts with baggy sweatpants.
The Local Watering Hole
So anyway…
Just over a year ago, our little town of Ladysmith welcomed its newest purveyor of food and drink; Bayview Brewing Company. And man! Did they ever welcome them!
Now open 7 days a week, there's pretty much always a full complement of customers. And for very good reason. The selection of their beers is incredible. If you enjoy a good local, craft beer, you will not be disappointed. For such a small and new establishment, they really overdeliver on the brews.
And the food! This is not your average pub fare. Bayview is the only place around that serves Shawarmas. Good, filling food, like Lamb and Beef Donair, Steamed Bao Buns, and the Big Kids Grilled Cheese Sandwich, loaded with bacon, pulled pork, or chicken shawarma. Crap! Now I'm starving with nothing to look forward to except a White Spot Burger on the ferry back to Duke Point…
The other day the local Victoria television station did a little story about Bayview Brewing. Nice piece, but they didn't talk enough about their beers. Mmmm, their beers…
Ahh well. It matters not. Even without a Victoria TV station news story, I'm pretty sure the little local brewery is here to stay. And only a 7 minute walk from my home…
So anyway…
Wait…She's Really Going?!
Around about dinner time on Monday it kinda clicked in my brain; my 14 year old daughter is traveling 8,000 kilometers across the continent, across an ocean, to another continent!? Are we nuts!?? Who the hell agreed to this??
Earlier that day I took her down to her bank to trade some Canadian dollars for a few Euros. We had already gotten her some cash, but she was changing over some of her own money. But she wouldn't go into the bank by herself. To talk to a teller. On her own. Without me. And now, here we are sending her to another country, through a few different airports, with so many possible ways for her to need to talk to people to ask directions, check gate numbers, find a bathroom, get food, find baggage, etc, etc. Yikes!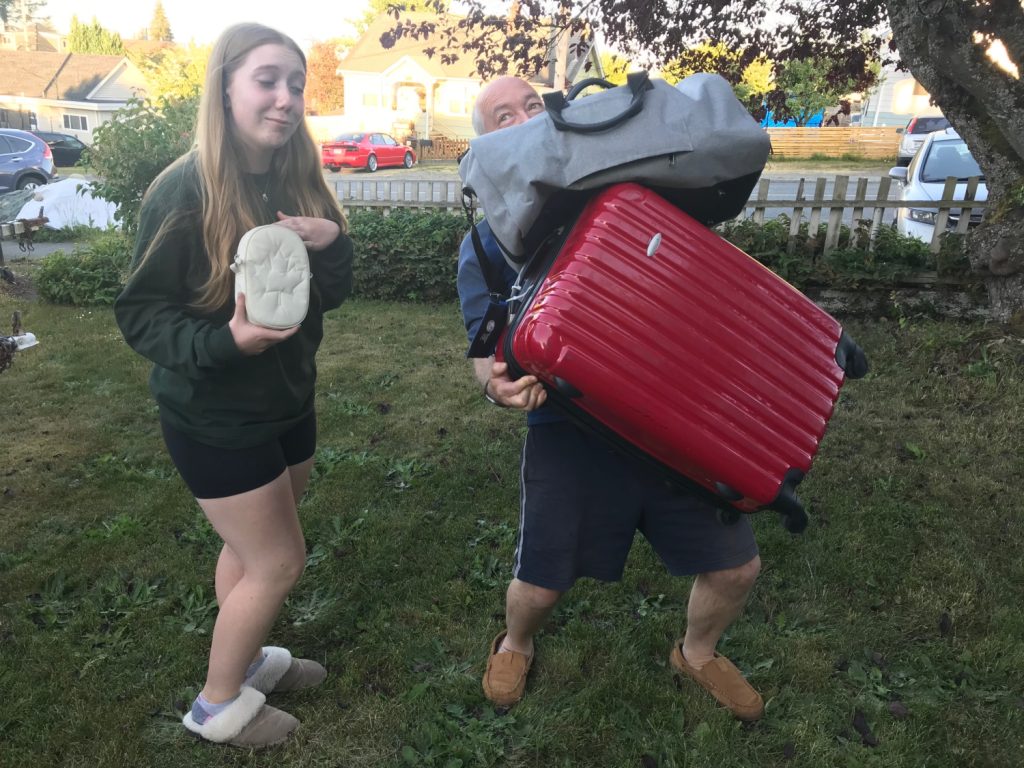 So I will be with her all the way to the gate. Even if I have to bribe security to let me go with her, to ensure she doesn't get on a flight to Australia, or Yemen. Then, once I've seen her safely onto her airplane, I'll get back on the Skytrain, transfer to a bus, take that back to the ferry terminal, wait for the next ferry, take the ferry back to Vancouver Island, try to remember where I parked the car, drive home, have a beer (or 3), try to relax before bed, then go to sleep.
Then I'll wake up at three to go pee (due to the 3 beers), and lie awake figuring out what to make for dinner.
Meanwhile, I'll need to worry while she's in Germany. She's going to be with Jana, so everything should be okay, right? Right!?
This is why I need a little chaos in my life. It helps keep me sane. I can't handle all this "nothing happening" crap!