My phone chimed as a new text arrived. Glancing at the screen, my heart jumped into my throat. Just as I feared, it was my daughter, Beth-Rose. "Now what does she want", I muttered under my breath. "Can you bring me my supper now?" I was in the middle of making dinner. I texted back, "I'll bring it in about 20 minutes." Sigh… Another day of being oppressed, courtesy of "the boss of me". (heavier sigh…)
Now don't get me wrong, I love my daughter madly. She is so much fun to hang out with, and she makes me laugh as much as I make her laugh. But O' My Gawd! I am at the end of a leash! I mean rope! At the end of my rope!
Not Just Any Random Old Guy
Many years ago, when my daughter was just a tiny toddler with an attitude, and I was an older dad with an age complex, Beth-Rose referred to me as just some random old man. That stung! But now I'm older (without the age complex), and wiser, with a few more years of fatherhood under my belt. And I've really figured out my place in the world. Right here, where my daughter can find me so I can bring her stuff when she texts.
So, Beth-Rose is a dancer. She dances about 20 or more hours a week, between all her different classes. She helps out with the younger dancers and gives much of her time to her dance studio. I built her a ballet barre for her room so she could practice at home, though I don't know how much she uses it for dance. It could just be a nice coat rack for all her dance costumes. (She has a lot of dance costumes…)
Anyway, with all her dancing time down at the studio, she tends to miss some dinners at home with the family, So now she relies on Father's Skip The Dishes service. That's right, just send a quick text to yours truly and Voila!, your freshly made, hot and nutritious meal is brought to your door, as long as that door leads to the dance studio. Man, she really is the boss of me! Here, take a look at what I mean;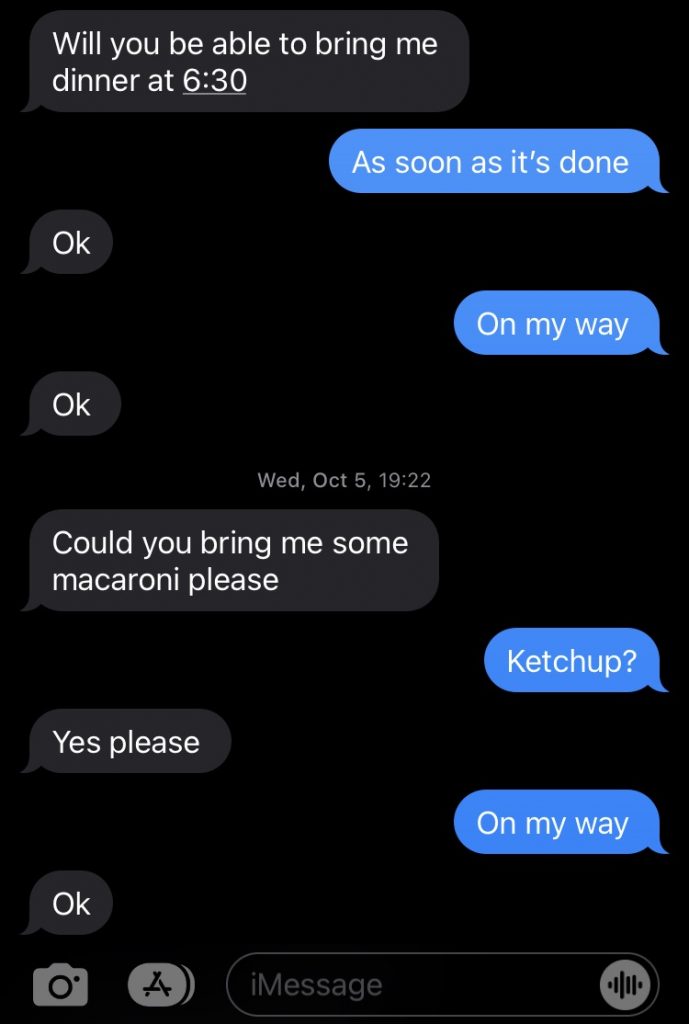 I'm No Pushover, But You're The Boss Of Me
And keep in mind, it's not just because of dance that she's the boss of me. Sometimes she texts me from school, on my days off. For really important stuff! And like the dutiful father/servant I am, I rush off to fulfill her every need. Okay, I am a pushover…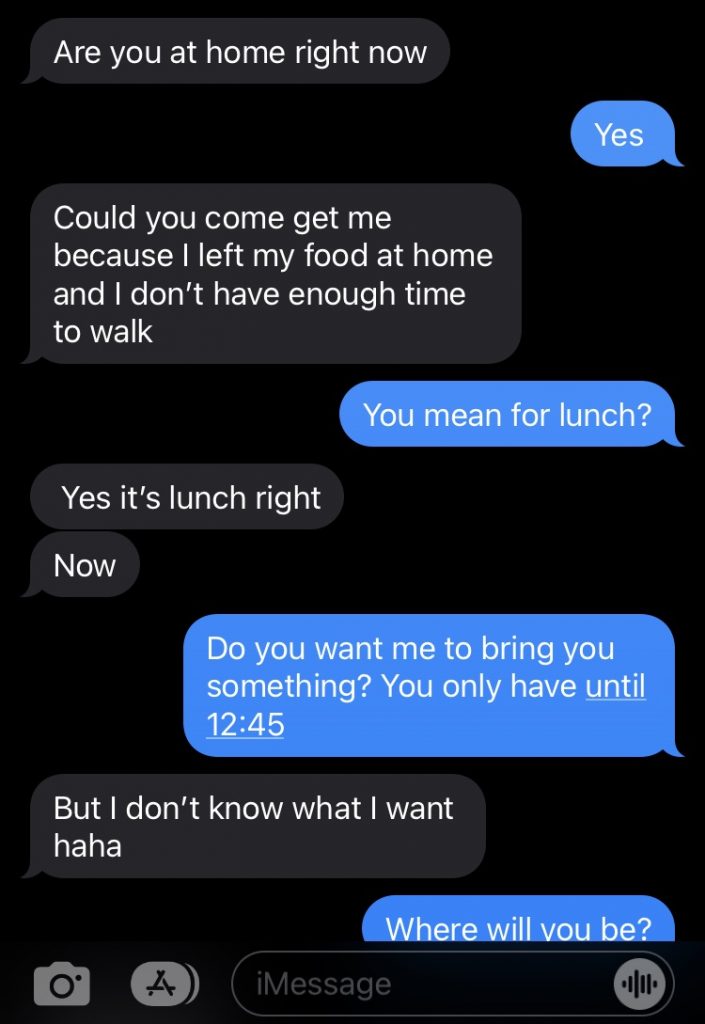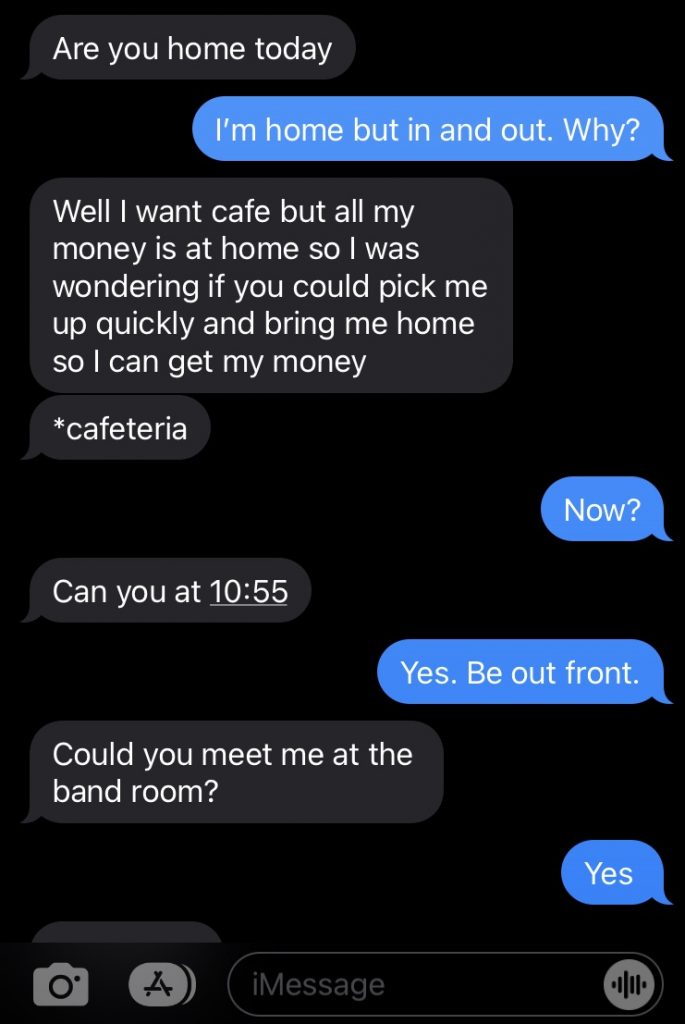 But despite all of my familial servitude, I really wouldn't have it any other way. I'm quite happy to have my 14 year old daughter needing me, even if it's just to make sure she has a good dinner at her long dance classes. It keeps us connected in some weird way. We have a lot of fun with it. In fact, just this evening, while I was writing this, she texted me from dance. She didn't know if it would be Heather or me picking her up. So Heather and I had a bit of fun with her. This was my conversation with her.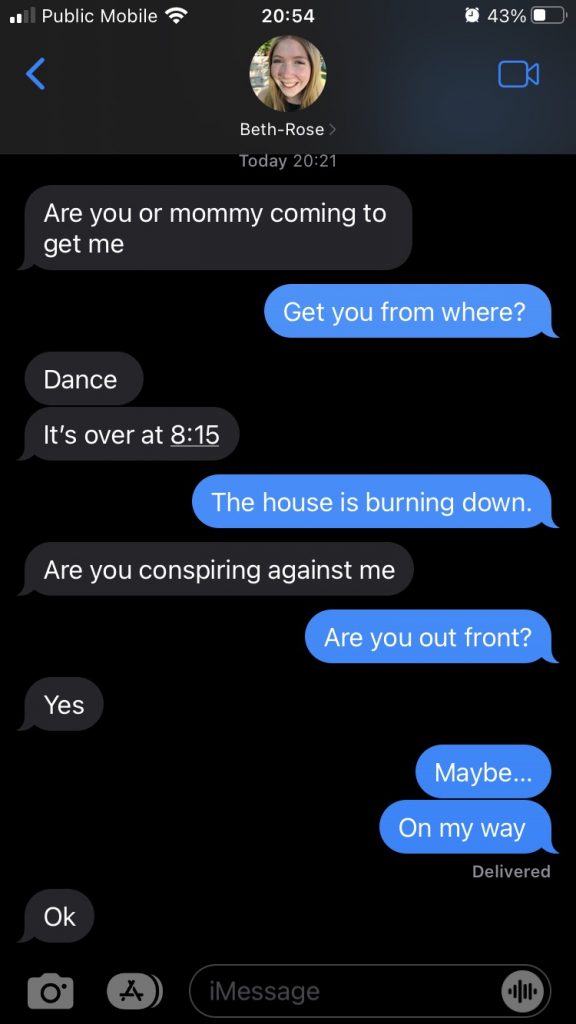 And at the same time, Heather was texting with her. She and I were in the same room.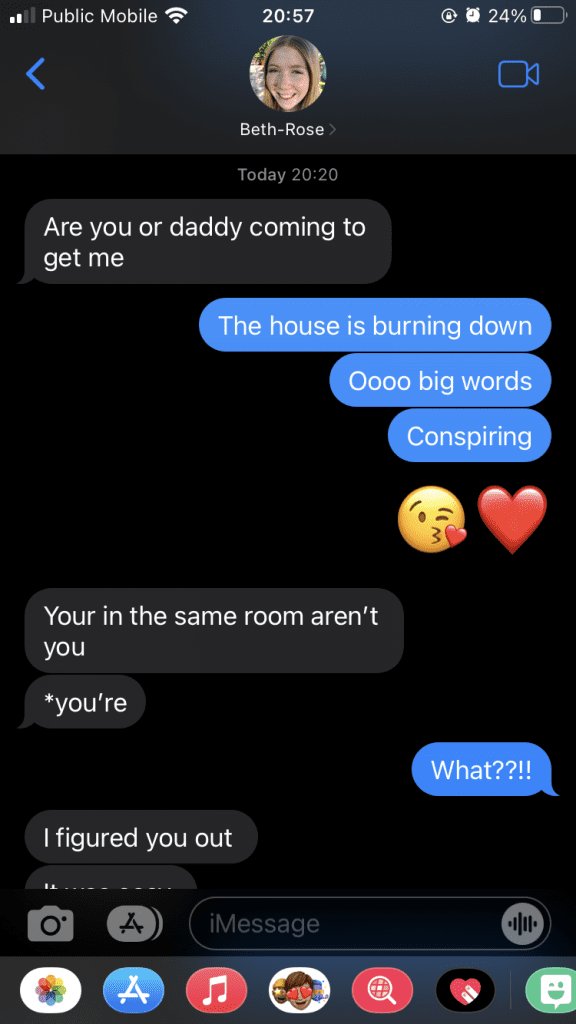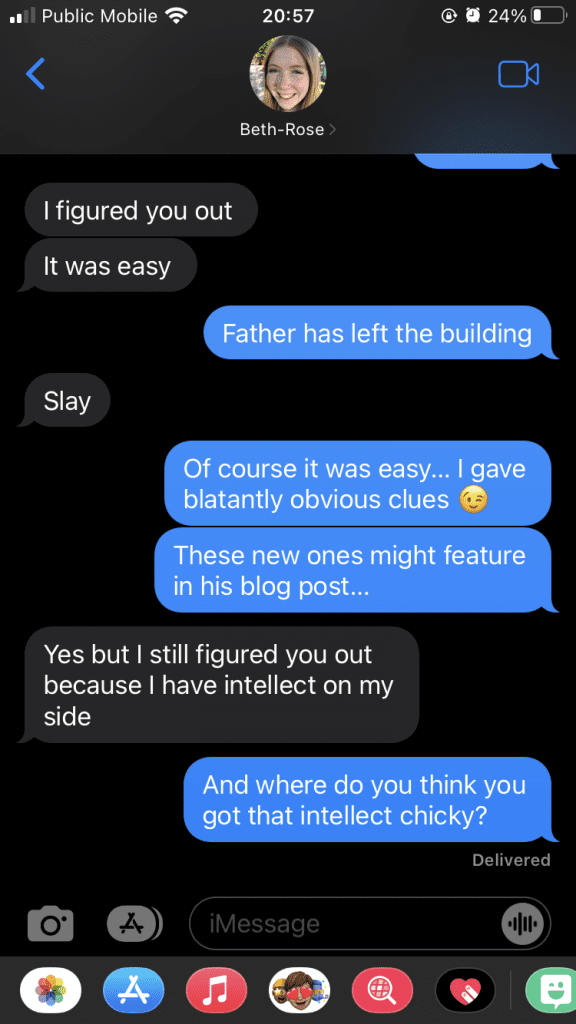 I consider ourselves quite lucky. We have a 14 year-old daughter who lets us be silly and kid around with her. I know others whose daughter barely gives them the time of day. And that's exactly why I'm okay letting her be the boss of me!