This post was updated September 20, 2022
Being in a Teacher family means being a slave to the school holidays. We are rarely able to take vacation outside of those days dictated to us by our school districts, which means we often have to pay premium rates for travel, accommodations and activities. It just means we need to save a little more money than if we could holiday during shoulder seasons. Bottom line, we make it work. And that also means choosing where we go.
Several years ago we were able to fly to Mexico, thanks to points saved and the generosity of family. That isn't a normal yearly vacation for us as a family of five, when we consider our International Student as well as our own two kids. It costs a lot of money to fly us all somewhere, so we need to think about economical alternatives. For most of our Spring Break vacations, that's meant Fairmont Hot Springs. Never heard of it? You aren't alone!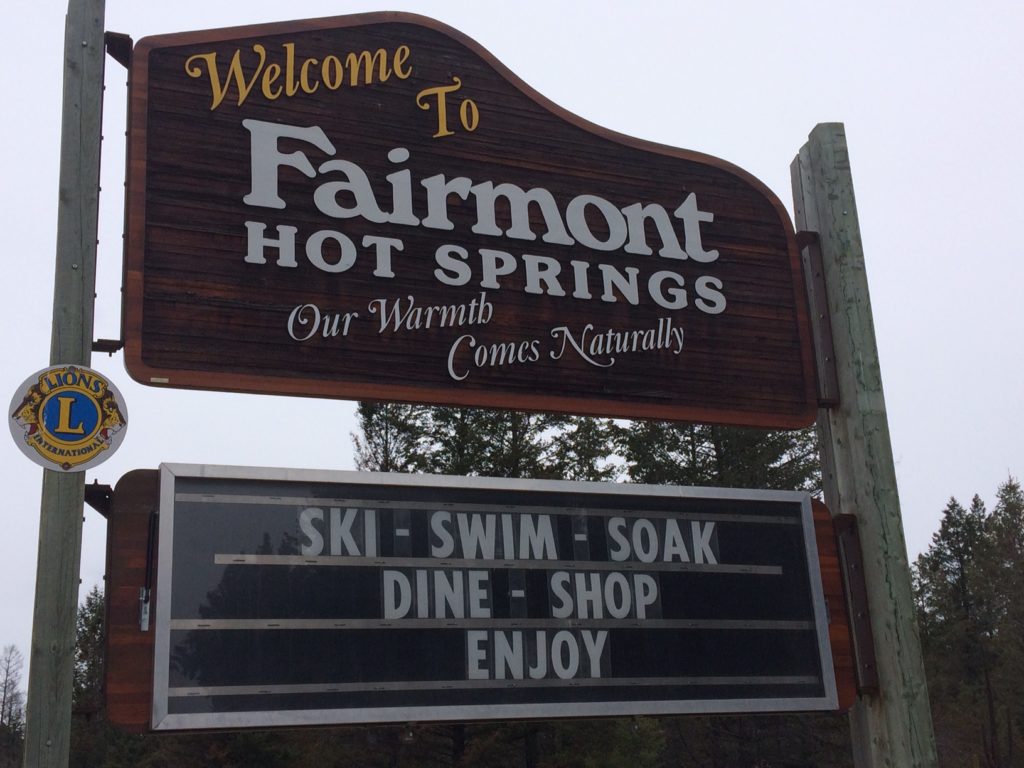 Fairmont Hot Springs is a little bit of a town that sits smack dab in the Columbia Valley of British Columbia, about an hour and a half south of Golden on Hwy 95. Radium Hot Springs is 35 kilometers north and sits on the western border of Kootenay National Park. The mighty Columbia River flows by here on its journey south, and the wide valley formed by this flow runs between the Purcell Range to the west, and the Rockies to the east.
Mountainside Villas
Our favourite place to stay is Mountainside Villas in Fairmont Hot Springs. Located about 5 minutes down the mountain from the ski hill, Mountainside Villas has all the privacy and convenience of your own condo in the mountains. We love looking out our living room window and watching the mule deer hopping down the golf course fairway! Who knew such large animals could hop like bunnies!
For a family living on Vancouver Island, a vacation destination must have some pretty compelling reasons for us to get in a car and drive for more than 12 hours, including an hour and a half ferry ride, to make it worthwhile. After all, Vancouver Island has some pretty awesome destinations on its own. We have come to find that Fairmont Hot Springs does meet that lofty criteria. Read on to learn about the 5 really compelling reasons that keep us coming back year after year.
1.Fairmont's Very Own Ski Hill
While this is no Whistler or even Mount Washington on Vancouver Island, this laid back little ski hill has everything we look for in a ski destination. How about a lift pass for under $50 for an adult? Rentals for less than $40 per day? It's true this isn't a world class ski destination, but for a family that only skis a couple of times a year, this is just about perfect. We don't own our own gear, and our kids aren't all about having the best of the best. They just want to come and have a great time skiing and boarding.
Zachary learned to board on this hill. Beth-Rose has refined her skills here. I think that holds some sentimental connection for them. I know it does for me. Heather also took her first lesson here, and we've had three different International Students learn to ski or board at Fairmont.
The staff here is excellent. They obviously enjoy what they do, and it shows. Everyone at the rentals shop puts a lot of effort into the experience and makes it smooth and enjoyable. They might even slide you a discount coupon for appies at the local watering hole for later that evening!
Ski School
Needing a lesson? Stop by the Ski School and they'll happily hook you up. And the instructors will give you their undivided attention and encouragement. Garrett has lived in the Fairmont area most of his life, and skiing is his passion. My kids have nothing but good things to say about their instructors, although Beth-Rose did complain a little one year about her instructor being "a little strict"! I'm sorry, is that a bad thing!?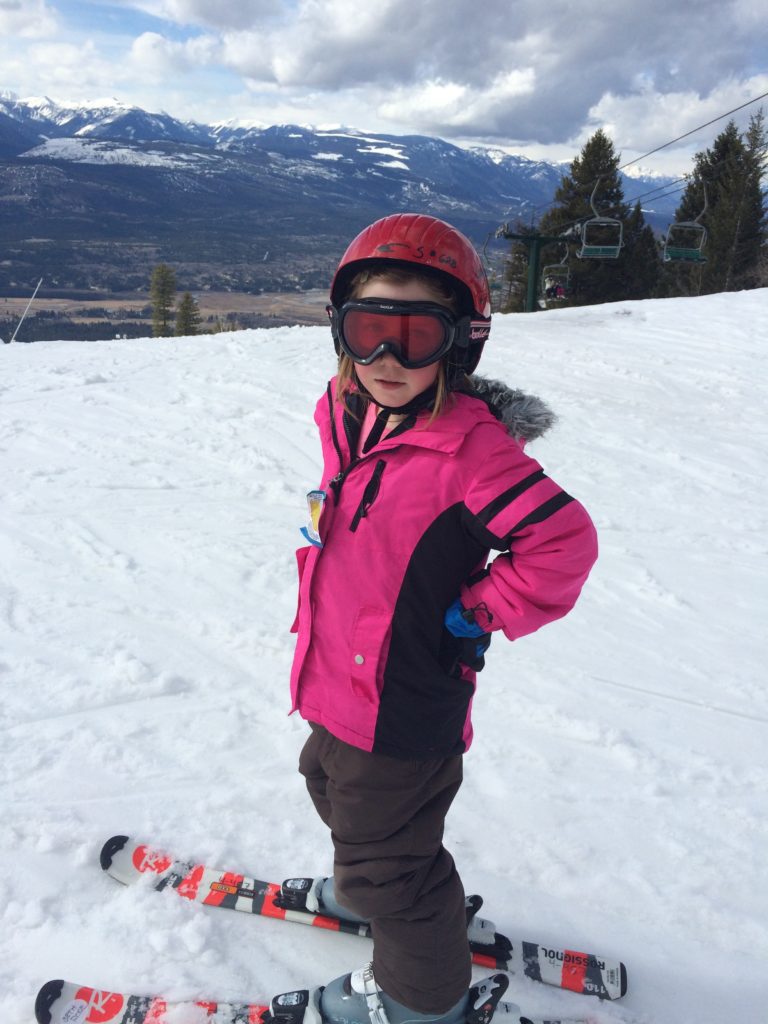 An excellent added bonus to skiing at Fairmont Hot Springs is your complementary pass to the hot springs pools at the Lodge. This is the way to finish your skiing day! Three different pools of different temperatures provide a therapeutic soak to ease the aches of your day on the ski hill. All included in your already ridiculously inexpensive lift ticket price!
2. The Hot Springs
Ahhh, what could be better after a day of skiing or boarding than a relaxing, rejuvenating soak in a giant hot tub?
The hot springs of Fairmont are a natural phenomenon found throughout this part of the Rockies. There are hot springs to the north at Radium, to the south at Lussier Hot Springs in Whiteswan Lake Provincial Park, Ainsworth Hot Springs to the west on the shores of Kootenay Lake, and numerous other locations throughout the Rocky Mountains. Renowned for their therapeutic benefits, the hot springs at Fairmont have been easing the aches and pains of travelers for more than 150 years.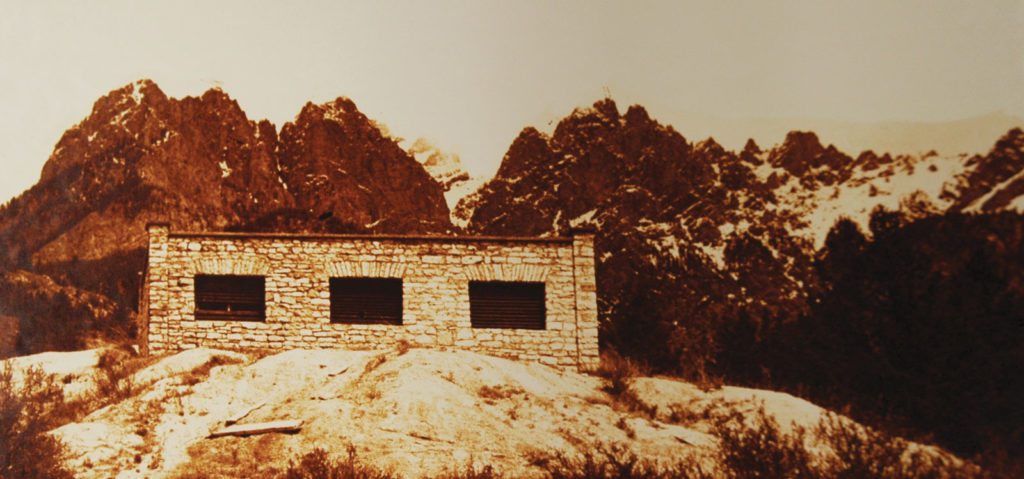 Hot Springs History
Even before the original Fairmont Hot Springs Ranch, created by settler Sam Brewer, First Nations travelers used the natural pools that bubbled up from deep in the rocks as soothing baths. The original Ranch was purchased by visionary John Hankey, who renamed it "Fairmont Hotel Springs" and began charging two dollars per day for accommodations, which included access to the hot springs. Hankey owned and operated the roadhouse until 1912, when he sold the operation to a British millionaire industrialist, William Holland. Holland recognized the tourism potential of the area, and harnessed the waters and built a swimming pool. He also opened a restaurant, tenting camp and bungalows.

The property was sold to a couple of brothers, Lloyd and Earl Wilder, from Saskatchewan, and in the 1960's was expanded into the operation we enjoy today.
The Fairmont Hot Springs are formed by melting snow from the surrounding mountains trickling down through cracks, dissolving minerals from the rocks and penetrating a few kilometers into the granite crust. The meltwater is naturally heated to around 126F. The heated water builds pressure and expands, forcing the heated meltwater back to the surface through natural "pipelines" in the rocks.
A number of hot springs feed the pool, with temperatures ranging from 94F to 114F at the source. The hot water is cooled slightly with cold spring water before being pumped into the pools. Three different pools provide three different soaking experiences, with temperatures ranging from 102F to 86F. And the pools are open year 'round. So go for a soak and enjoy the rejuvenating benefits of increased metabolism, accelerated healing, soothed muscle tension and improved circulation.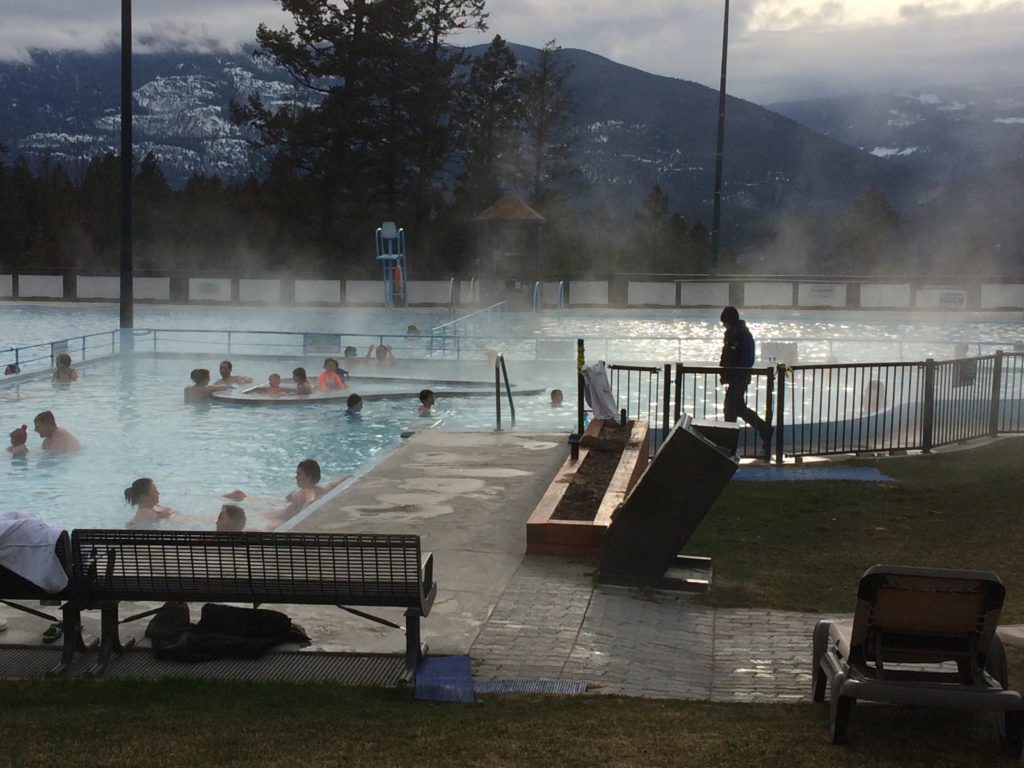 3. Hoodoos
I've written about the Hoodoos of Fairmont Hot Springs on a previous post, so I won't go on too much. You can read that post here. You can watch my video about the Fairmont Hoodoos here.
There are quite a few areas across BC and Alberta that have remarkably striking examples of this fantastic geologic land-form, but the Fairmont Hoodoos have them all beat. The easy trail takes you up on top for a breathtaking view. You can walk (carefully!) along a narrow ridge and look down both sides into the chasms that form the individual hoodoos, and you can look across vast expanses of these crazy landscapes. Look way down to the road below and watch cars snake their way past the base of these weird shapes.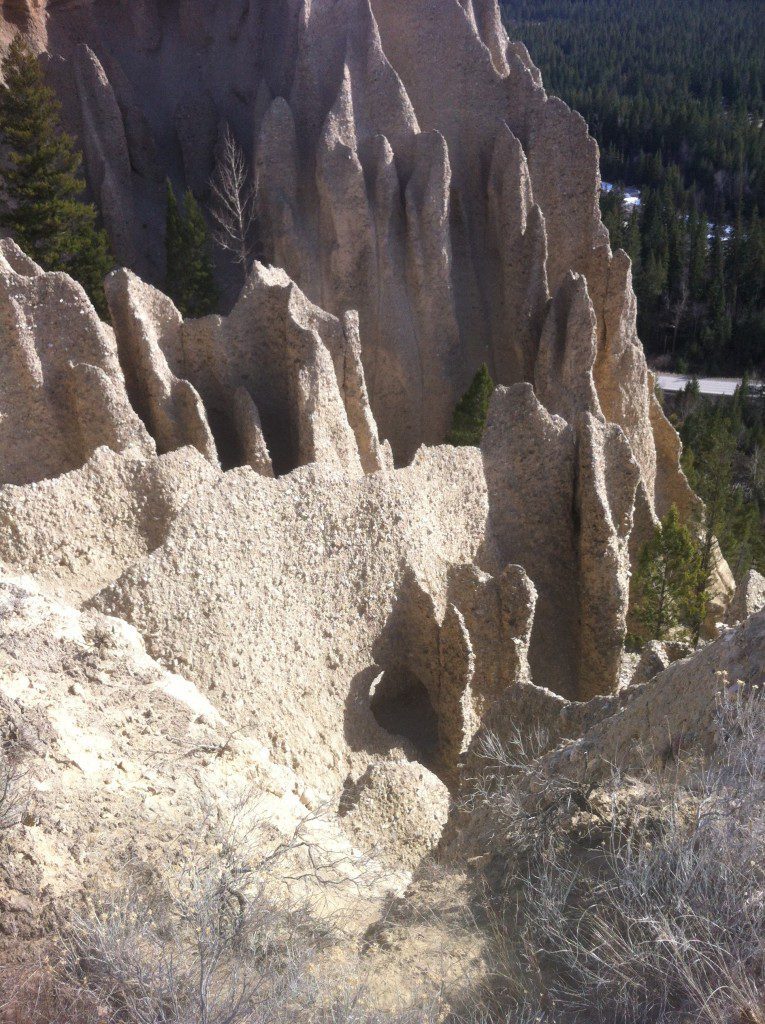 4. Golfing
Fairmont Hot Springs Boasts two championship golf courses and a 9 hole Par 3 course. The Mountainside course has been open for more than 50 years and features stunning views of the surrounding mountain crags. The course offers 3 different tees on each hole, making this the ideal course for all abilities.
In 2012 the area suffered a massive rock slide that devastated the Hot Springs Resort and the Mountainside Golf Course. The operators cleaned up the damage and made some excellent upgrades at the same time. Just be aware that you may share the course with some of the local residents!
The Riverside Course is an easily walking course that follows the Columbia River. It crosses the river 6 times throughout its length, offering a scenic experience on every hole. Here you'll also find the Learning Centre, offering programs for every level of golfer.
Finishing up the lineup of excellent golfing opportunities is the Creekside Course. This 9-hole par 3 is unique among par 3 courses. A standard "hole" on a golf course is about 4 inches in diameter. The holes on the Creekside Course are 8 inches! This course, with its more relaxed rules, is all about the fun of golf. And you'll have an excellent chance to experience a hole in one with these giant holes!
5. Shops and Food
While most of the dining and shopping around Fairmont Hot Springs is attached to the resort, there are some other options. Located in the small strip mall on the highway in Fairmont is the Purple Cow Gift Shop, a charming and eclectic collection of gifts, toys, unique local jewelry and much more. They even have a "cowch" you can sit on.
The Farside Inn is a local pub that offers standard pub fare, but their pizzas are pretty tasty. They offer daily drink and food specials, and Karaoke Tuesday nights, and they're family friendly.
Up at the Hot Springs Lodge you can find lots of options for food and shopping. For dining there's The Bear's Paw Bar & Grill, offering pub food, drink specials, and a nice patio overlooking the pool. You'll also find Mountain Flowers Restaurant, with a Best of BC Wine Tasting on Thursdays from 5-6PM, and up at the ski lodge, Desperados, also offering up pub fare and a Happy Hour from 3-4PM.
Another great dining option is From Scratch-A Mountain Kitchen. From Scratch offers dining from breakfast to dinner, as well as a market featuring locally sourced foods like jams, jellies and preserves, cheeses and meats, and so much more. Located next to the small strip mall on the highway, this is a Foodie's paradise, with a plethora of items from around the world and around the corner. They make a lot of their own products as well, including a Bacon Spread (mmm, bacon…!) and their own homemade ginger ale! Open Wednesday thru Sunday.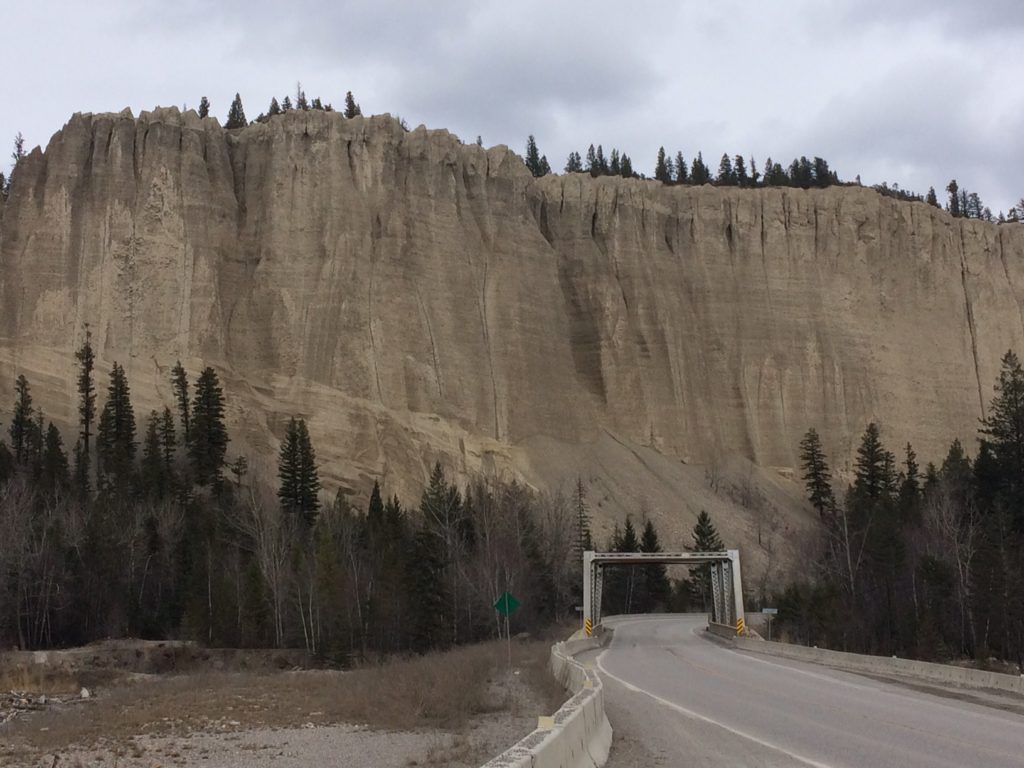 This is by no means a complete listing of shopping and dining in Fairmont Hot Springs. For a place with fewer than 600 permanent residents, Fairmont has more than its fair share of great little places, and the people that staff them are warm and friendly. We make the long drive every year because of the natural beauty of the area, the people, and the excellent accommodations and services.
Close By
Fairmont Hot Springs is an excellent jumping-off point to the four Rocky Mountain National Parks, Kootenay, Yoho, Glacier and Banff. Banff town-site is only 2 1/2 hours from Fairmont, offering great shops and dining, as well as great outdoor activities including skiing, golf, hiking and camping. This part of British Columbia is an outdoor paradise. You will never want for things to do in this part of the world. So for your next family road trip, consider Fairmont Hot Springs, a little out of the way, but so worth the extra miles.
Have you ever been to Fairmont Hot Springs? I'd love to hear about it. Drop me a comment and share your experience.