On this last day of January, I celebrate my birthday. Every year for the last 63! And it's not just me; my sister does as well. You know, the twin thing… So every January, somewhere around the first couple of weeks, my family asks me what I want for my birthday. It's always been a tough question to answer. What is the best birthday present for Dad?
As an adult I haven't really been much on getting "stuff". Oh sure, when I was younger it was all about the "stuff". When you're a kid, who doesn't want a bunch of "stuff"? But that desire for more "stuff" started to wane in my 20's. I've mostly felt that experiences are far more valuable gifts than getting a bunch of "stuff". Okay, I'll stop saying "stuff" now…
Celebration Time!
Most of my friends are of the opinion that birthdays are best ignored and uncelebrated. To that I say, "Horsefeathers! Poppycock!" One's entrance into the big, wide world of life on Planet Earth should be celebrated with gusto! A gathering of good friends and family, recognizing the anniversary of your life is, by far, the best birthday present one could receive. In my humble opinion…
Now I can hear those many friends cringing and shuddering at the thought. But I stand by that. For me, there's joy in the happy mingling of friends and family. And what better reason than a birthday?
So, what am I doing about it this year to usher in my 63rd trip around the big, bright ball in the sky? What big plans for the 31st of January? Well, it's a Tuesday, and I have to work tomorrow, and I'm a little behind on my sleep. So I think I might have a nice dinner with the family, watch a little Netflix, then call it a day. Sigh…
The Best Birthday Present Back In The Day
Once I got past my thirties, birthdays became important to me. Every year behind seemed like an accomplishment. That accomplishment needed honouring. The big ones, turning 40, then 50, were milestones worthy of epic celebrations. When I turned 40, we took over a pub and had a grand party. My brother and twin sister Deb came out from Calgary to join us. That was a wonderful time!
For my fiftieth birthday we had a beach party at our house. A perfect party theme for the dead of winter! We had inflatable palm trees, tropical beach decorations and margaritas. I may have had a bit too much tequila, but I still remembered everything. My buddy Mike hasn't had tequila since!
Old Age Angst
I celebrated my 60th birthday in 2020, just before the pandemic encircled the globe. I had big plans for another epic get together. But as the big day neared, I began to procrastinate on the planning. My enthusiasm for the plan faded. For the first time in my life, I started to think about "growing old". Not the "being an older father" angst, but something deeper, less irreverent.
I did my best to celebrate on the day. We had a nice dinner with the family and Lilly, our International Student. We enjoyed a tasty selection of cheesecakes and opened some gifts. It was nice.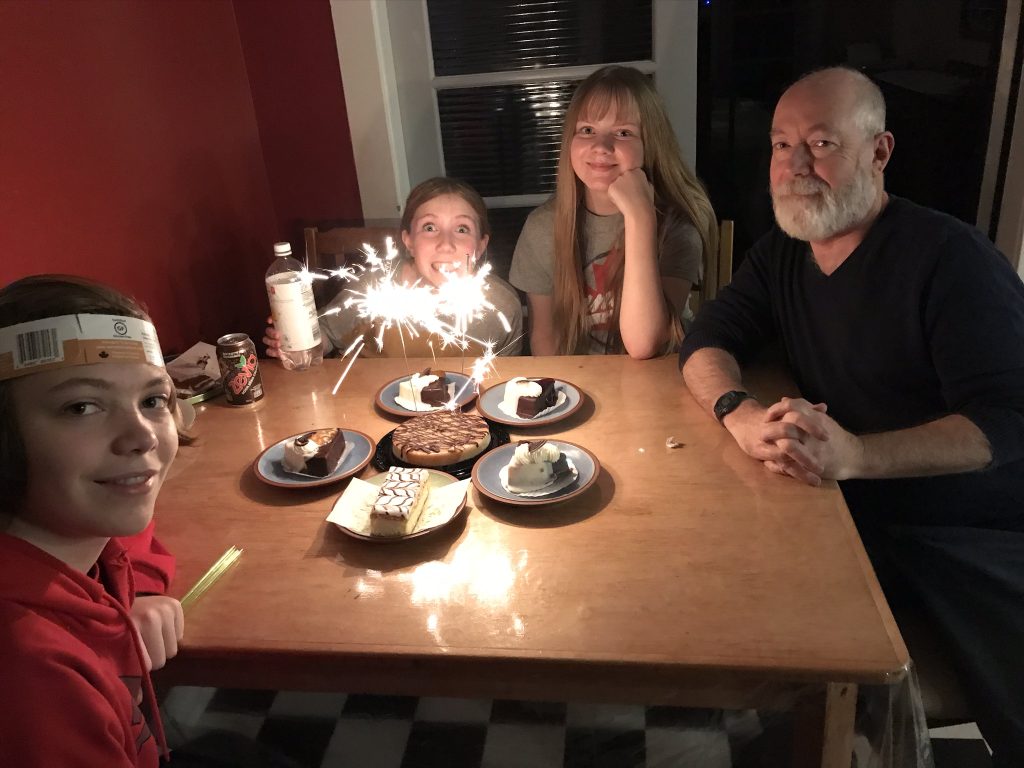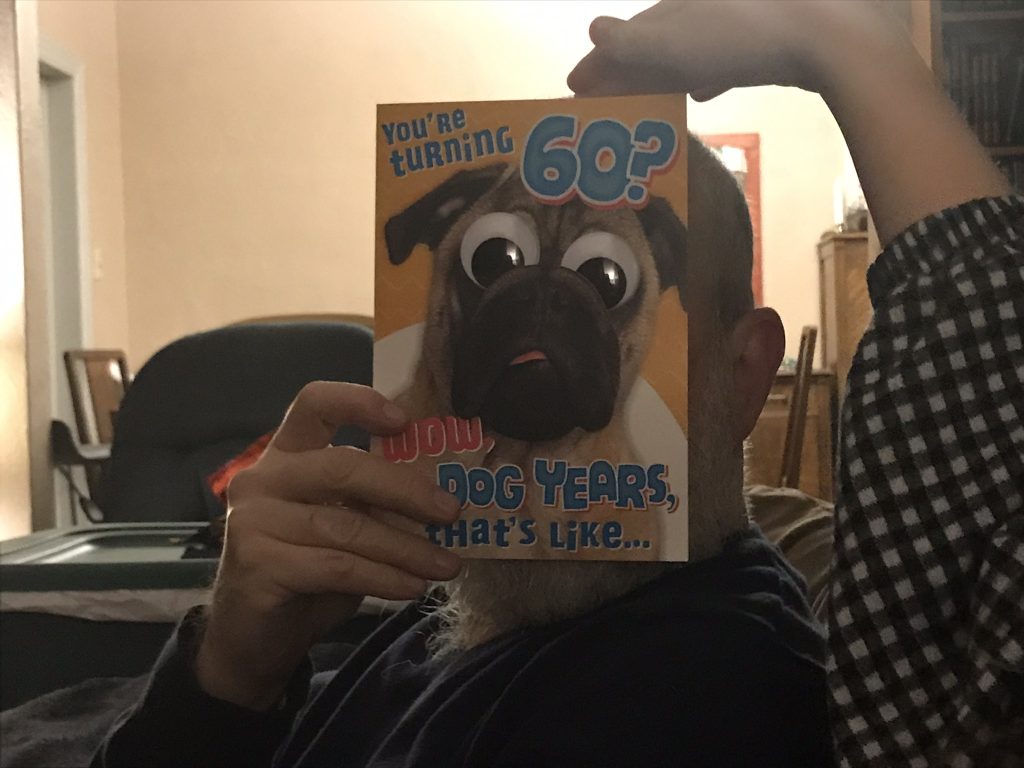 And I began to think a bit more about being 60 years old. I spent a good deal of time that winter pondering my life and where it had gone. And what it had become. I became a tad melancholy. A Gloomy Gus.
Here I was, 60 years old and feeling a bit sorry for myself. For what!? I have a nice life, a wonderful family, close friends, a roof over my head, 3 squares a day… But I was sixty! Past the halfway point! On the downhill slope! Approaching my "best before" date! Crikey, what a Debbie Downer! (Sorry Deb. Not you…)
A Little Less Enthusiasm
I did eventually crawl out of that little funk. But my birthdays since then have become a little more reflective. Yes, I'm still celebrating my orbits around the sun, but with a little less enthusiasm. No more headlong leaps into the next year of my life. Tentative, carefully chosen steps to get me to the next period in my life. Nowadays, the best birthday present is getting to the next year.
Heather and Zachary and Beth-Rose know I'm not interested in getting presents. Sing me Happy Birthday, play a song in the piano, watch Lord Of The Rings with me. Those are all perfectly acceptable gifts for my birthday. But last year they really surprised me.
The Best Birthday Present
My favourite book is The Lord Of The Rings, by JRR Tolkien. And my favourite movie is Lord Of The Rings by Peter Jackson. I've read the book more than 15 times, and seen the films dozens of times. The films encompass a wonderful, fantastical world populated by the most amazing beings. Peter Jackson, the director, did an incredible job of bringing a group of diverse characters together and crafting their individual struggles to defeat evil. The nine actors who portrayed the Fellowship were absolutely committed and utterly engaging in their roles.
Of all the characters, it was the four Hobbits I enjoyed watching the most. Simple people who just wanted to live a simple life. But as the Elven queen Galadriel said, "Even the smallest person can change the course of the future." And so they carried on, and did the best they could, and persevered.
Of the four Hobbits, I especially enjoyed the irreverence of Merry and Pippin. Pippin especially, was in way over his head. But he was funny! Both actors, Dominic Monaghan as Merry and Billy Boyd as Pippin, have a wonderful, playful, prankish sense of humour that I completely get. Their podcast is quite brilliant!
So what in the world does this have anything to do with my birthday? Just one of the best birthday presents I've ever received!
My Friend Billy
This was Zach's idea. He being another Tolkien nerd, came up with the perfect gift for someone who doesn't want "stuff". And I haven't shared it with more than my own family, so I thought this day would be the day for sharing a most wonderful birthday present from my family. I hope you'll get a kick out of it. I know it won't mean the same to you, but that's okay.
Happy Birthday, Me!