On my first solo trip to the Baja Peninsula I found the perfect beach. It was located on the Sea of Cortez, just south of the town of Mulegé, on the Bahía Concepción. Finding the perfect beach there wasn't difficult at all. The highway hugged the coastline, with dirt roads leading off toward the coast every mile or so. Pick one and drive down to the beach. And so I picked one. It was perfect. And the dirt road didn't lead me to any dead cows!
Lovely light tan, fine sand curved around the small bay, framing shallow turquoise water. Behind the beach was a small inlet, bordered by mangroves. Presently I set up my camp on a spit of sand, the bay in front and the mangrove behind. Perfect! About 500 yards along this strand was a rustic palapa. A wooden sign hung from its rafter; "Ana's". She sold fresh baked breads, empanadas, some basic produce, water and beer. A few boats lay at anchor just offshore. There was nothing else on the beach except a few small palapas for shade. One had a lone kayak shackled to it. And nobody else but me. And Ana, down at her little store.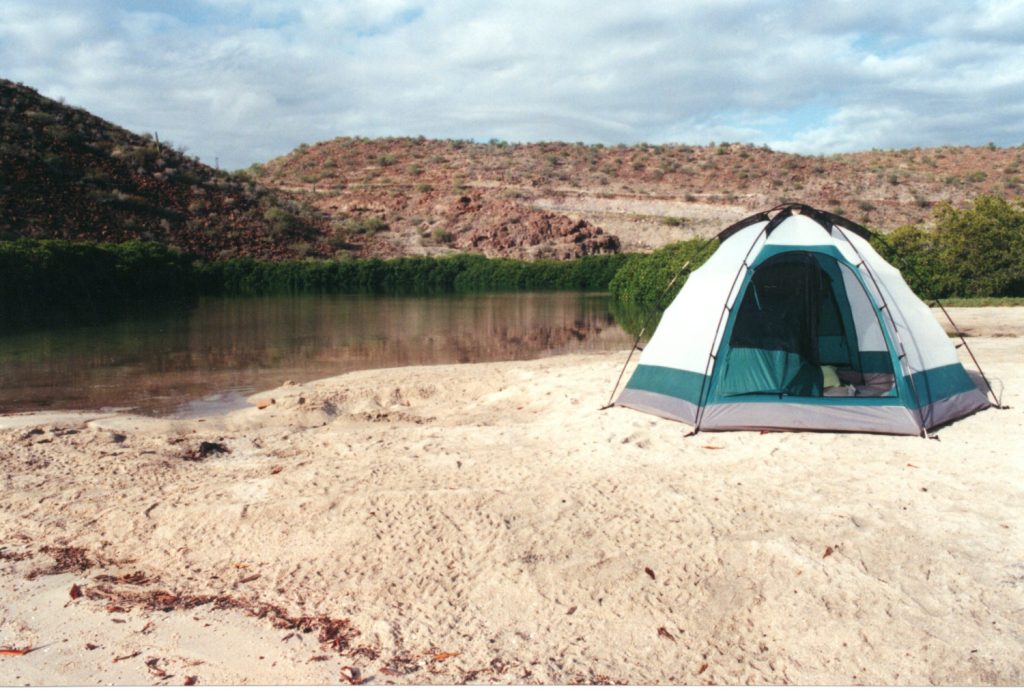 Ultimately I spent three days camped on this beach, my tent about 10 feet from the water's edge. I woke at first light and walked into the warm ocean. And as I swam, small tropical fish jumped from the water, keeping a few feet between me and them. Afterward, I walked down the white strand to Ana's and bought a sweet empanada. With my morning coffee, I had the perfect breakfast. And I had the entire beach to myself!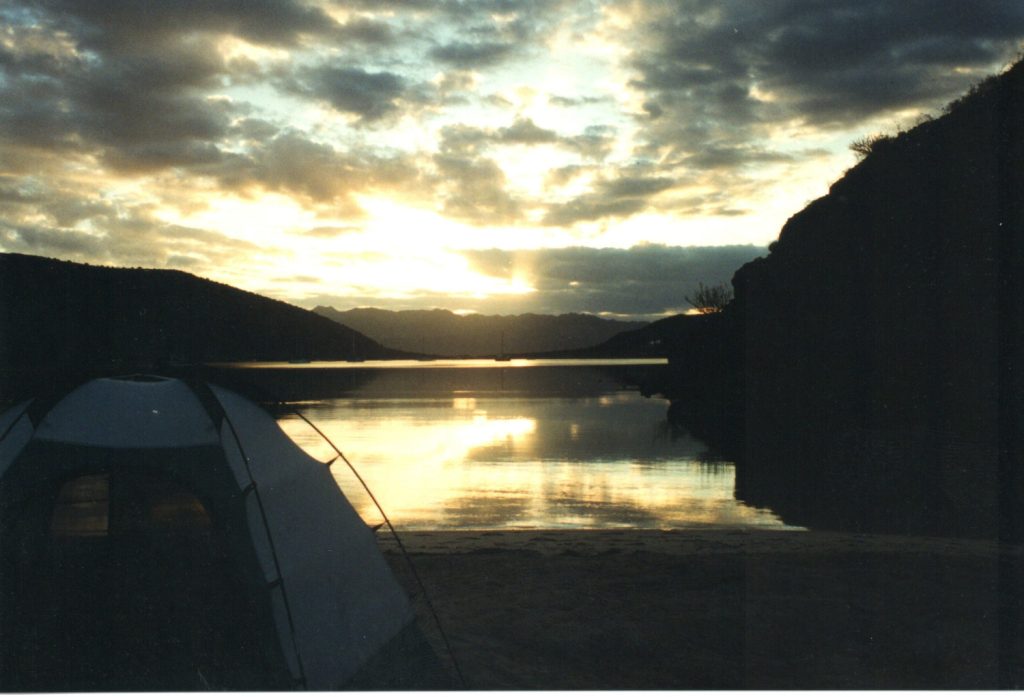 Joy Found?
The rest of my days were divided between swimming the warm bay, wading the shoreline from one end to the other, and sitting in my little folding chair, feet in the water, and a cooler of beer beside me. Meanwhile hours passed watching small crabs shuffle across my feet. There was nowhere I needed to be, and nowhere else I wanted to be. Who knew finding the perfect beach would be so easy? This was Heaven. This was Joy!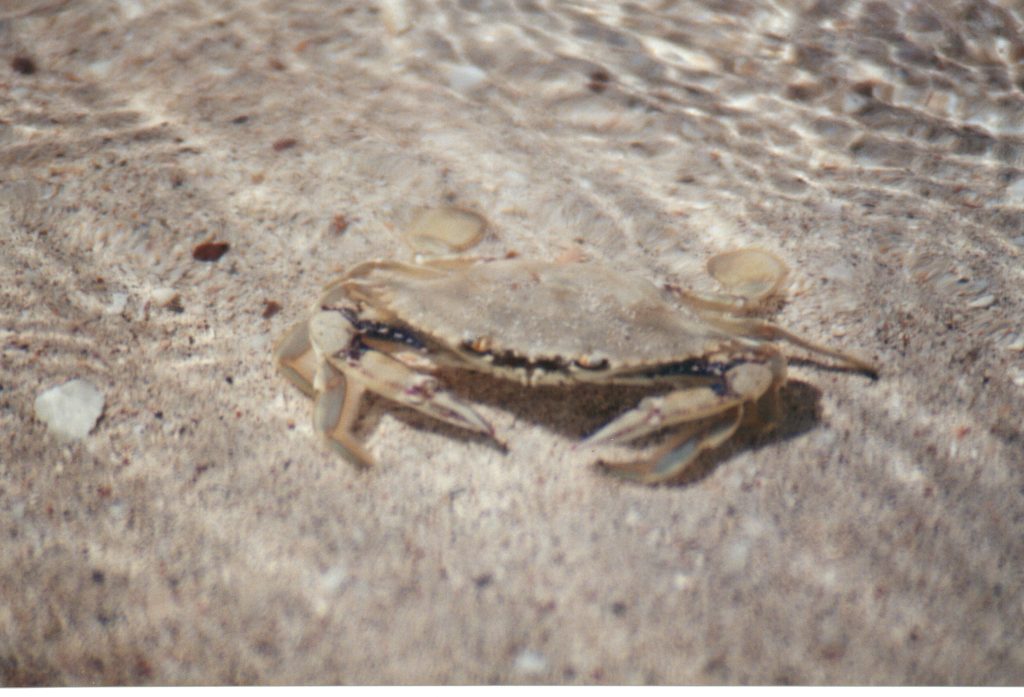 And early on the fourth day a beautiful sunrise woke me. Another perfect day! As I emerged from my morning swim, I heard the sound of a vehicle on the dirt road leading to the beach. Maybe someone was going to come for the camping fee? Somebody told me they'd come 'round to collect the $5 per night charge, but no one had been yet. After all, this was Day Four.
But the pickup truck continued past my palapa, and stopped three sites down. A young couple with a small child got out and unloaded their gear. Suddenly the child ran screaming to the water's edge with frantic mother in hot pursuit. The silence of my perfect beach was shattered. Time to move on.
Needless to say, I have incredibly high standards when it comes to finding the perfect beach. I think any normal person would not be put off by 3 people showing up at a beautiful beach, especially if the population of said beach was now 4 people! I confess I was pretty selfish. But there I was, enjoying a pristine, unspoiled beach. And I let that nice family ruin it for me. Silly man!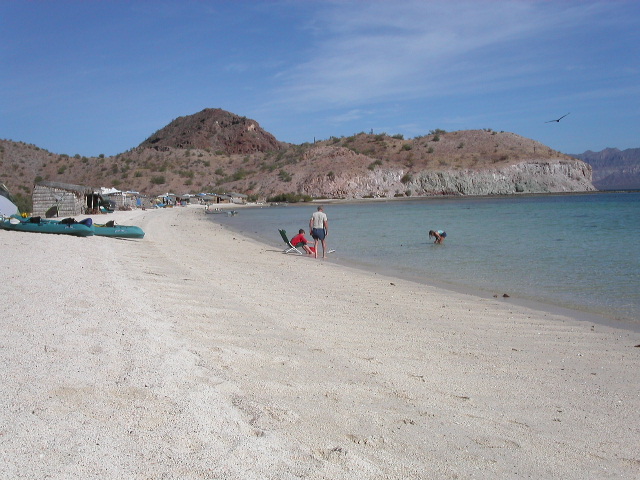 Setting the Bar
Interestingly, today that very same beach gets a rating of 4.8 out of 5 on Google Reviews, with almost 1,500 reviews. My experience at this beach happened 2 years before Google was created. So, in today's world, that beach is pretty perfect to an awful lot of people! But just for fun, here's a couple of those glowing reviews.
Absolutely amazing beach. Water is great for swimming. There are restaurants, bathrooms. Entry for vehicles is paid, but if you came without a car, you don't pay anything.

There are huge buses which bring groups to the beach, so best time to enjoy relatively few people's company and silence is before 2 pm.

Anna N.
Wait, what!? Restaurants? Bathrooms? Huge buses?! And that's amazing??!!
Excellent little hidden gem. The water is cristal [sic] clear and not deeper than 1.25 meters giving you plenty of room for having some fun, it eventually gets deeper so watch out. There's plenty of room for everyone and some services are offered; kayaks for rent, going on a boat tour, a few restaurants, and even cheap useless WiFi. I'd say it's a must if you're in the area.

Victor G.
I'm sorry, but since when is kayaks for rent, going on a boat tour or cheap useless WiFi suitable criteria for finding the perfect beach? And plenty of room for everyone?? No thank you!
Finding The Perfect Beach to Share
Sigh! I guess I am spoiled. My idea of a perfect beach is not the same for others, obviously. I want the place to myself, without the restaurants (although Ana's was pretty nice…), without WiFi, boat tours, kayaks, and PEOPLE! Well, maybe just one or two others. I mean, it would have been pretty great to share that spot with some good friends. As a matter of fact, I did return to that beach a few weeks later with a companion I had met along the road.
It was fun to show off this gem to my new friend. We stayed for two days. On our arrival, we purchased some bread and a garlic clove from Ana's, and dove off the beach for clams. The butter clams sat on the sandy bottom in six feet of water, just begging to be harvested. We cooked them in seawater and ate them with garlic butter and fresh bread. One of the best camping meals I've had!
We didn't have the beach to ourselves this time. A lone camper set up at the far end of the beach, just about where I had been a few weeks previous. But that was okay. I didn't feel put out. I wasn't concerned. Sharing my perfect beach felt okay. In just two short weeks, I had grown less selfish. I had also discovered that I was a little lonely. Traveling solo through the Baja made me yearn for company. I wanted to share my discoveries with someone. I no longer wanted to keep my experiences to myself. The joy I felt during those first three days was replaced with a longing to be with other people, to have adult conversations.
What Makes A Perfect Beach?
The two weeks I spent between my trips to this beach had been spent with other people. I met interesting and engaging travelers. Believe it or not, I even met Patrick Stewart, Captain Picard from Star Trek! We shared a drink at a yacht club in La Paz on a hot Fall day. But I digress…
Setting out on my Baja trip way back when, I was excited to travel solo. I wore it like a badge. "Traveling solo means you don't have to debate what to do everyday." "Traveling solo leaves you free to go and do as you wish." These were my arguments when someone questioned my decision to travel alone. And it felt true at the time! But that changed for me as the journey continued. So I was fortunate to meet a fellow traveler who had also been traveling solo, but was looking to share his experiences with another. His name was also Michael.
Michael and I traveled together for the next two weeks. He'd been hitch-hiking through the southern US and Mexico for a couple of months. Smart guy with a fascinating back-story, and suddenly I was on a new journey. We had a lot of fun and laughs for the remainder of our time together. And we got to connect later in Vancouver to celebrate my birthday. It's certainly nice to make friends on the road.
And so I've learned that finding the perfect beach isn't just about the fine details of white sand, blue sky, turquoise water and solitude. The perfect beach is not a place, it's a state of mind. It's finding a spot that resonates with wherever you're at, with whoever you're with. I keep looking for, and finding the perfect beach. It's nice to know there are so many around!
Epilogue
My wife Heather and I drove down to the Baja ten years after my first solo trip. We had a nice, long Christmas break, and decided to go find a nice beach to camp on. I had a few ideas.
After 3 days we pulled into Mulegé for the night. The weather was a little cool for this time of year, but I was looking forward to the beach. This would be my first time back to this particular part of the Baja since that first trip. But I kept wondering, had it changed much? And would it be everything I had remembered?
Approaching the beaches of Bahía Concepción I was a little nervous. Every beach along this part of Baja has it's own character, but I so badly wanted my beach to feel as it had 10 years ago. I had waxed poetic to Heather about it for so long, anything less would be a huge disappointment.
Finally a road sign for my beach warned of our approach. We came around a bend in the road, and the turnoff was there. A short bumpy drive and we were there at the beach. Just us, and another 50 or so campers! The beach was packed. Moreover, RVs parked next to each other dwarfing the little palapas. Damn those 1,500 Google reviews!
Last Chance At Finding The Perfect Beach
Heartbroken, we got in the car and prepared to drive away. I thought, if there's this many people on this beach, are the other nearby beaches going to be any better? We had no choice but to try. Back on the highway, we carried on south.
We passed a small community a little ways on, Posada Concepción. What had once been a small RV park along the pretty beach was now a gated, expat retirement town. Scattered homes dotted the area in front of the beach, and a brightly painted B & B sat on a hill across the highway.
The next beach was Playa La Escondita. The rough, rocky track would probably deter most cars from getting to the beach. Maybe we'd find a spot? Nope. Every spot was taken by tents, campers and a few RVs. As we were getting back to our car a woman approached and asked if we were looking to camp. She told us there were lots of spots at the next beach, where she was camped. "And the folks there are great!" Okay! Let's go!
The road was a little difficult to find without a sign. But I was experienced with following badly marked dirt tracks into unknown desert. And this time I knew there was a beach at the end of it! And there was! Several shady palapas greeted us as we pulled onto the beach. There were people camped along the strand, RV's and campers lined next to each other. But it didn't seem crowded. And the beach was lovely.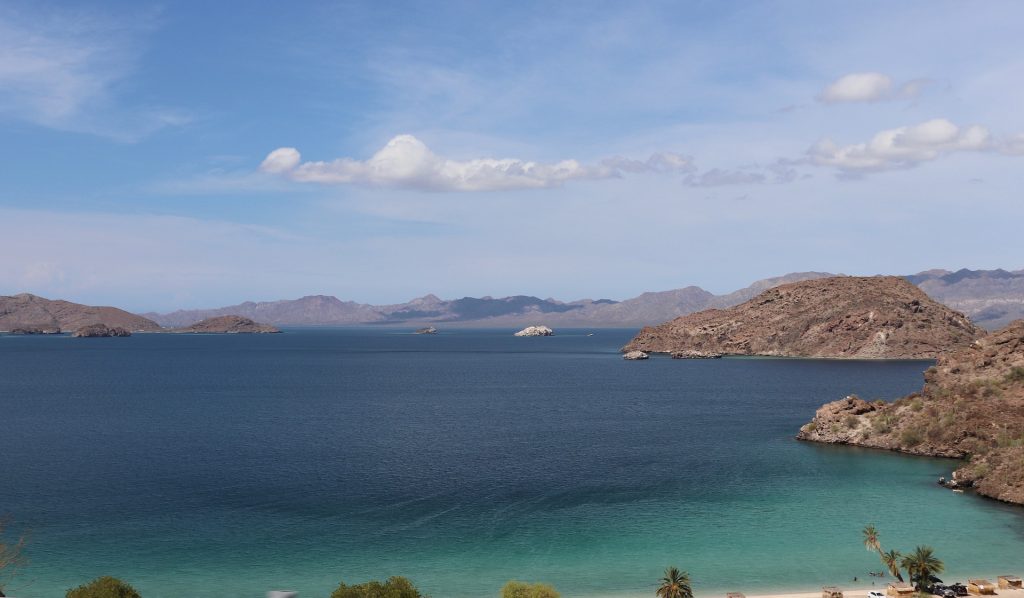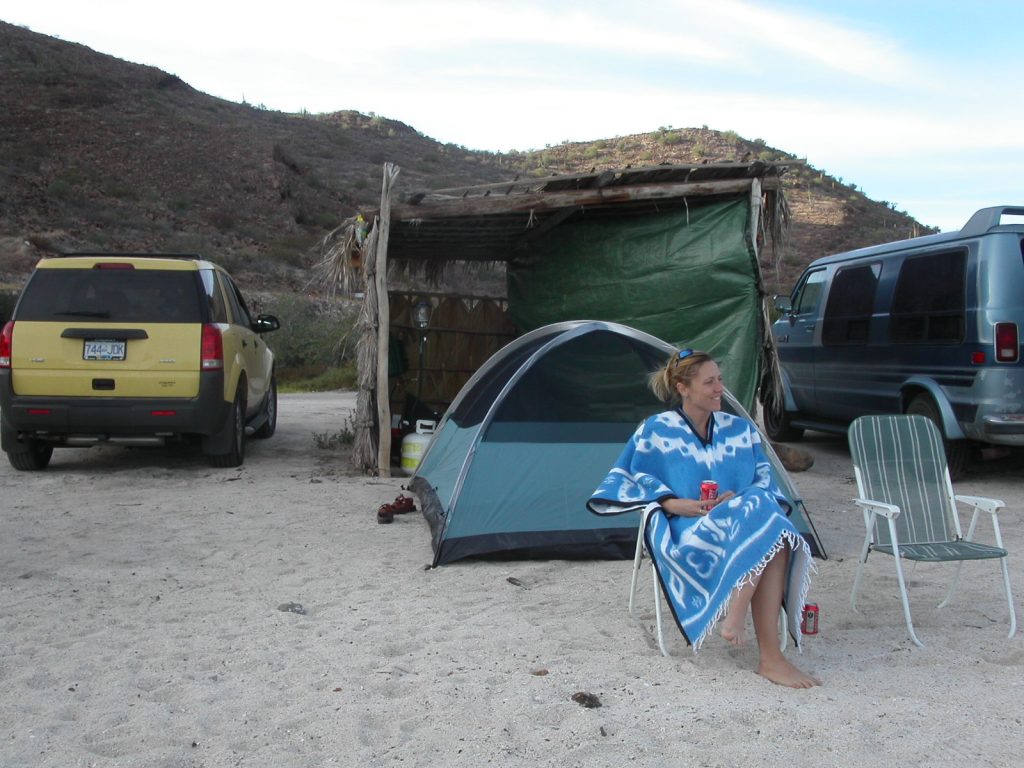 A State of Mind
Heather and I spent a week at Playa Los Cocos. We swam, snorkeled and scuba dived. We ate lobster tail-sized shrimp. The people we shared the beach with were some of the friendliest travelers I have ever met. Many folks from Canada, from the US, and a few overseas. Every night somebody hosted a get together. We had beer margaritas with some folks from Oliver, British Columbia, and paella with a gregarious host from Salinas, California. He plied me with Patrón tequila when I came down with a nasty cold. Heather practiced her newly developing guitar skills with a supportive and enthusiastic audience as we sang Beatles songs around the camp fire.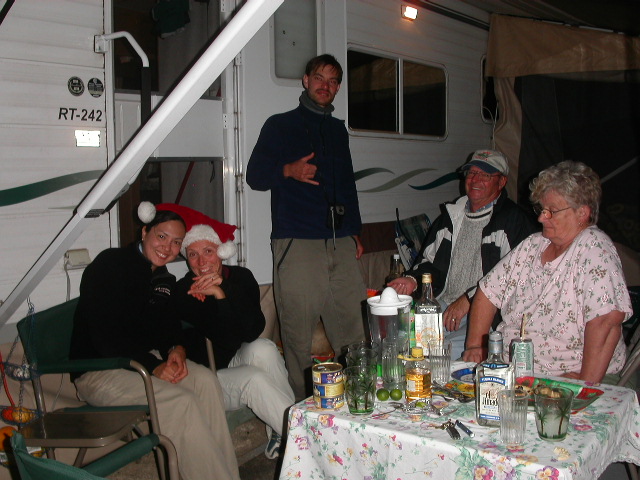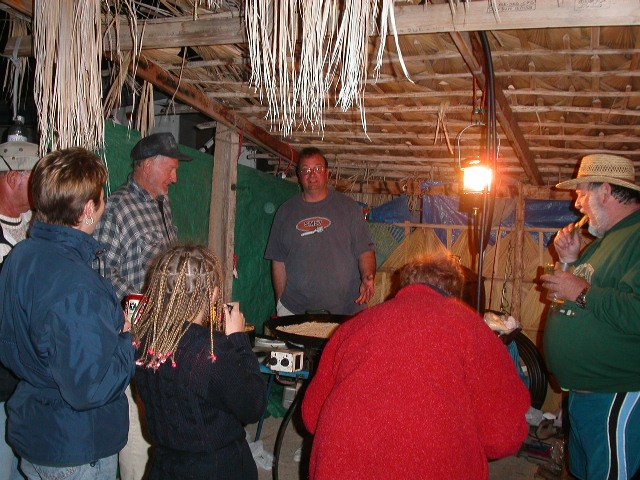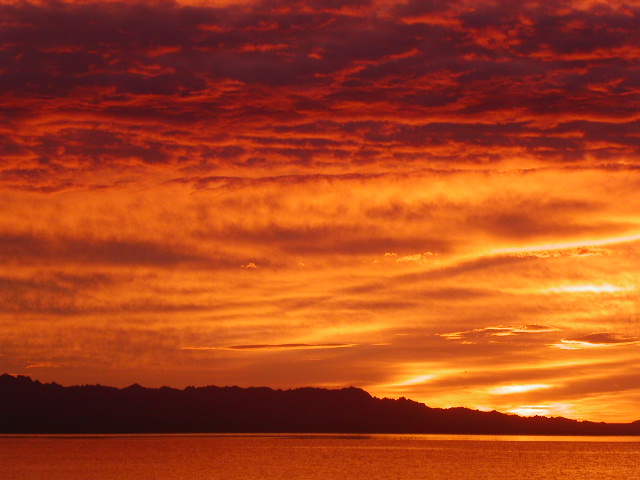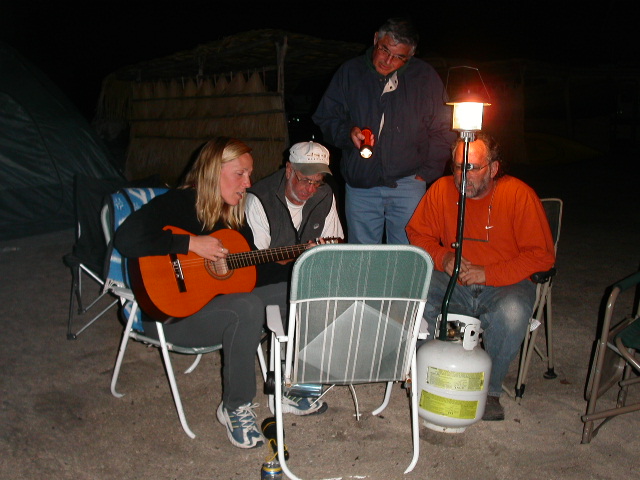 Although the temperature never got much above 72, the warmth of that week on Playa Los Cocos has stayed with me. Was it the perfect beach? In that moment, absolutely! I know Heather would have been a lot happier had it been warmer, but for me, it was perfect. In short, we found a beautiful spot that we shared with each other, and an eclectic mix of new friends. I may never go back to that beach again, but it doesn't matter. Because like the first beach I found, I can revisit anytime in my mind. Above all, finding the perfect beach is, indeed, just a state of mind.
Have you found your "Perfect Beach"? I'd love to hear about it in the comments!
And Finally…
Wondering what the name of my first "perfect beach" is? It's called Playa Santispac, one of the first in a string of beautiful beaches along a 20 mile stretch of the Bahía Concepción, and just 20 minutes south of the little oasis town of Mulegé. Surprisingly, every one of these stunning beaches has the ability to stop your journey to the end of Baja. When you see them, La Paz and Los Cabos can wait until mañana!
And if you're interested in learning more about this area of "authentic Baja", check out this wonderful article about Bahía Concepción and its beautiful beaches.