While camping is something that I really enjoy, I never had much opportunity to do it when I was a child. My older brother Rob told me that the family had attempted a camping trip when my sister and I were just infants. They had borrowed someone's canvas umbrella tent and a stove and all the other necessary gear and headed down to the Adirondack Mountains near Lake Champlain, just across the border. I think it might have been at Ausable Chasm.
Needless to say, the "experiment" did not go well. It rained. A lot. And while the experience has probably grown in the telling, after all this was over 50 years ago, it sounds to me that it was a miserable adventure that my parents were happy to forget about, and never attempt to repeat. I'm sure I didn't help; as a baby I cried. A lot. And while this experience has probably grown in the telling (my mother loved sharing this fact about me with all her friends, with my friends, prospective girlfriends…), every baby picture of me I am either crying, just finished crying, or just about to cry. Now just imagine the other campers sharing the campground with my family. It makes me shudder!
From then on, our summer vacations were mostly trips to a rented cottage on the shores of a lake in the Laurentians of Quebec, or a rented cottage on the shores of the Atlantic in New Jersey. I was not exposed to the sublime joy of a night sleeping outside until I was a teenager, invited on camping trips with my friend's families. Although I remember one particular trip where we had either heard on the radio or been told by someone else about some escaped killer roaming free. We spent a long, sleepless night waiting for the inevitable to happen to us. We were happily surprised to have daylight find us still whole and breathing.
Our children have had much better early experiences camping. Even on a summer trip to Hornby Island that threatened to rain us out, they had a great time making friends and exploring. I was miserable since I started getting sick on the ferry to Hornby, but Zachary and Beth-Rose were happy as clams. Granted, camping looks a whole lot better from the dry confines of a tent trailer, rather than a droopy, soggy pup tent. They might feel different with a small river running between their sleeping bags!
One of the things I never got to experience with camping as a child was making new friends. Kids are wired to be social, and in a campground, it's so easy for them to find each other and hang out for the time they share at that campground. My kids have made so many friends over the few summers we've been camping, though most are not permanent. Zachary has a difficult time with this. When he makes friends, he's all in. He wants their phone number, their address, Skype address, email, and best time to contact. He has a very difficult time saying goodbye to his temporary camping friends.
I'm always proud to tell people my children love camping because we get to bond as a family. I recently discovered that I am completely clueless. My children love camping because of the friends they make! What the heck was I thinking!? I tend to look at camping as a way to get out in nature, to bond as families, to make messy s'mores with the kids, to have more bike riding time. For Zach and Beth-Rose, those lovely moments are all secondary to making new friends.
Zachary recently got together with a school chum and created a project for a talent show at their school. They decided to write a book called "10 Reasons Why Camping Is Better Than Staying At Home". They wrote up ten great things to do when camping, and had drawings accompanying each text. They then took turns reading and acting out each reason. Here's a brief sample.
"Marshmallows Are Meant For Camping"

Who doesn't like marshmallows? Whoever just said "ME!" is crazy! But even better…Roasted marshmallows! Or even better than that…S'mores!!! They have a really high source of sugar! You can try making different kinds too!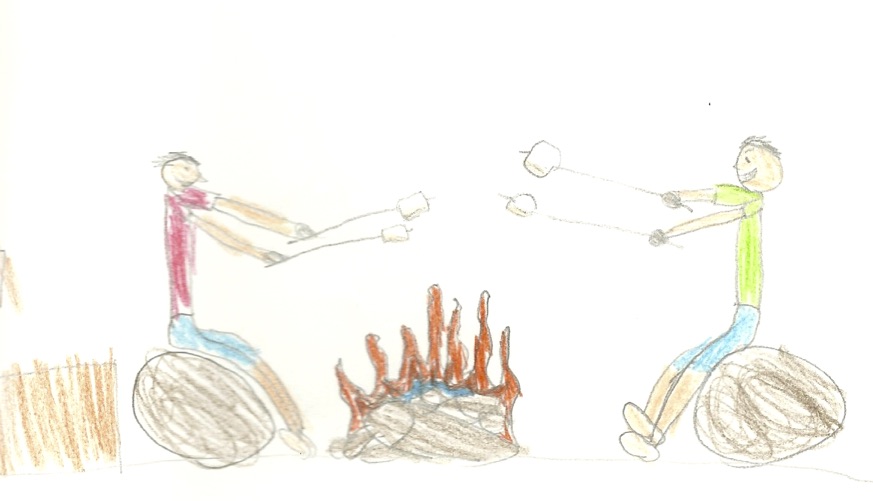 And of course, the most important reason for my children to love camping is hidden right in the middle of this amazing little book, number 5 on the list;
"You Can Make A Complete Gang"

You can never have too many friends! The limit is about infinity! What is the best way to make friends? Camping! If you don't believe me, try it out! You'll thank us!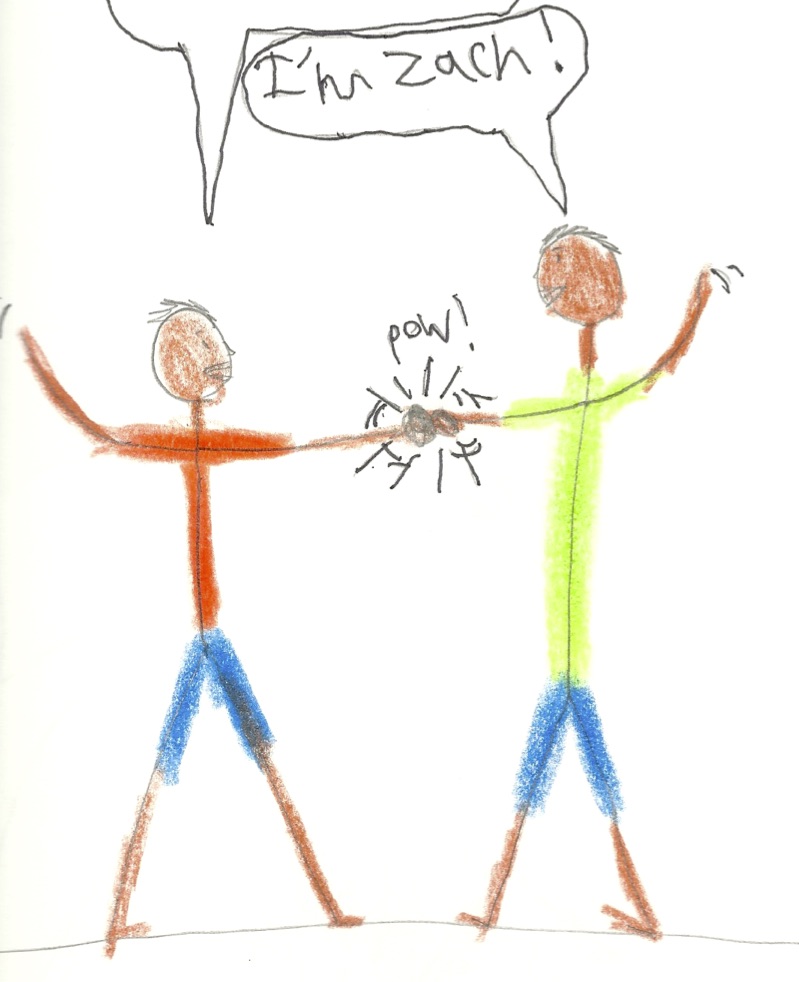 I guess it's important to keep it all in perspective. While my children are still young, they do enjoy spending time with us. And while I certainly hope this doesn't change as they grow into teenagers and on into adulthood, I am under no illusions. I'll take these precious moments with my kids, whether it's camping or going for a walk or sitting on the couch and reading with them. This time is special to me. If finding new friends in a campground is what makes camping special to Zach and Beth-Rose, so be it. They're outside, they're having fun, and we're with them. Well, at the campsite anyway… checking our watches and wondering if they'll be back for dinner. Sigh…!
Did you enjoy this post? Got something to share from your own camping experience? Drop me a comment below, and please share.